Santa Maria - your turquoise paradise 1 hour from Maputo !!!!
Posted on Thu February 2, 2017.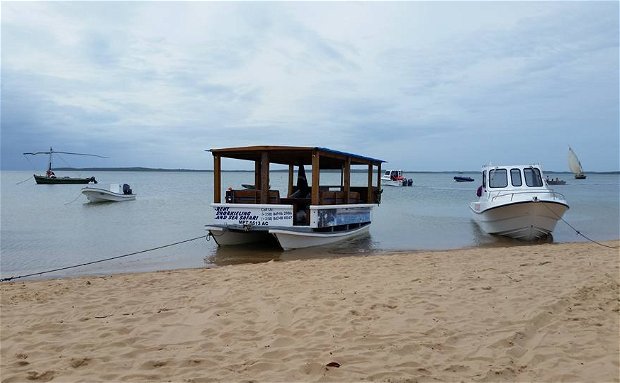 Leaving work at 3 pm on Friday and be with us by 4h30 pm... sipping your drink with your feed in the sea and sun falling in the sea. Beach Paradise is closer than you think . Contact us to arrange a weekend in paradise... from pick up / transfer / what to do / food .
- swim in calm , clear, safe water
- snorkel on reefs teeming with huge variety of fish and large shoals.  save and easy for all ages.
- fishing from rocks, kayaks or boats
- Kayaking in open water or through beautiful, mysterious mangroves
- half day and full day trips by boat to Marine reserve, flamingo's, isolated beaches, picnics
- walk to the top of the dunes for a 369 degree view of the peninsula
- trips to ocean side beaches and sheltered reefs
- read a book!!
- relax with a sundowner at the dhow beach bar at Nhonguane Lodge
- Don't want to cook - come to Bemugi's Restaurant and enjoy the food and atmosphere of local hospitality
Contact Bemugis Place for all your  transfer / boat trips / restaurant / luxury accommodation and beautiful camp sites
Bemugi - +258 842480047 / +258 860545848